About Us
Kongunad kidney centre is a unit of Kongunad hospitals (P) limited well trusted and age old hospital in the Coimbatore city. Kongunad kidney centre is located in the heart of the city just opposite to 100 feet road vasanth&co which spreads over 20000 sqft. It is the first hitech superspeciality centre exclusively for all kidney related diseases (Nephrology and Urology) at most affordable cost. It is one centre where 24hrs experts in nephrology and urology will be available to tackle all kidney diseases related emergency.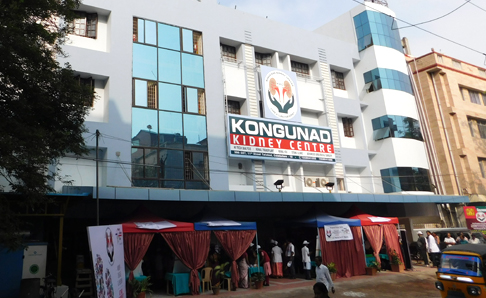 Care & Cure for Kidney
Providing

world class

Patient care
Our nephrology team is headed by Dr.A.PRABHAKAR M.B.B.S.,M.D.,C.DIAB.,DNB (NEPHRO) Who excels in critical care nephrology, adult and pediatric dialysis, interventional nephrology, preventive nephrology and Renal transplantation. His special interest in critical care nephrology and renal Transplantation have saved many lives so far. He mastered the technique of interventions in nephrology which was recognised by American society of interventional Nephrology. He presented many papers in national and international conferences. Recently he was awarded by Indian society of Nephrology for his field work in CKD in farmers.
The art of Patient centric approach is practised here. Each and every patient is unique and we care for them in the unique manner. We are having counselling sessions for dialysis patients. A team of dieticians are there to provide renal diet which suits them well . we are having 24hours renal casualty to tackle all kidney related emergencies. We are having fully air conditioned hitech infection free Hemodialysis unit which has brand new german imported machines. Our state of art is to deliver latest treatment to our patients.
First time in coimbatore In that aspect we are the one introducing Online Hemodiafiltration for chronic dialysis patients. It has scientifically proven better quality of life as well as survival benefit. In india only 4 metro cities are having this facility. We are proud to announce that we are joining them. We are providing world class medical and surgical treatment within everybody's reach at the most affordable cost. That's the speciality of our kongunad kidney centre .
We are having exclusive renal ICU for kidney related critical illness to avoid cross infection from other ICU patients . Renal ICU will be directly controlled by chief nephrologist and chief Urologist round the clock. We are providing round the clock 24hours emergency Dialysis for patients who are in need. We are having CRRT( Continuous Renal Replacement Therapy ) for critically ill septic, low BP patients which is available only in this hospital. Our aim is to save each and everybodys life. We are doing revolution in CRRT, it is provided at very economical cost which makes the common man to use the CRRT service.
our vision
No man is too poor to afford first class medical treatment
our mission
World Class Treatment within everybody's reach